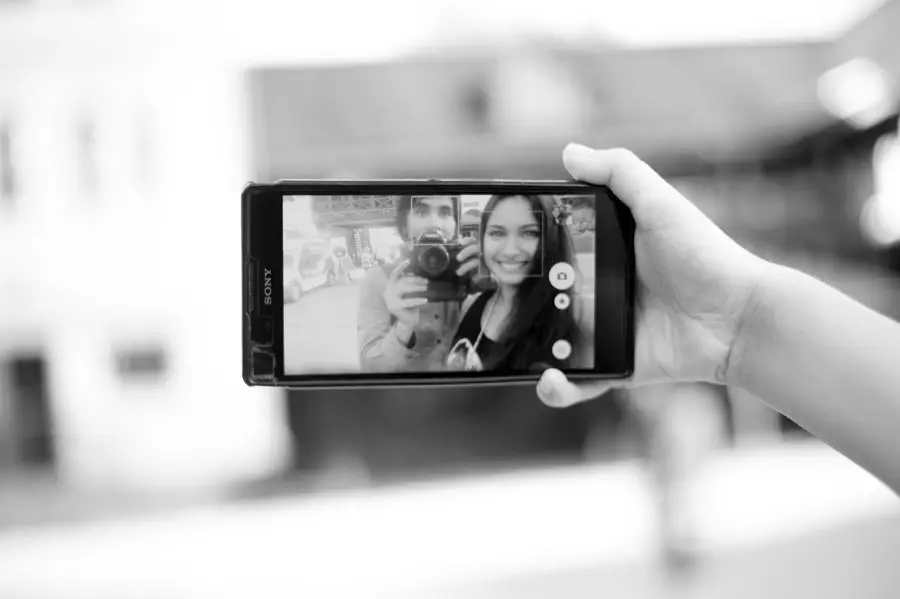 Need some inspiration for your next home photoshoot? We've got you covered.
Being stuck at home shouldn't limit your possibilities and inspiration. In fact, this is the time to get creative!
Check out these Tiktok and Instagram photoshoot ideas to keep those followers coming back for more.
1. Use Fake Flowers
Fake flowers make excellent props for photoshoots. The options are endless. You can hold a bundle in your hand and pose or stick some in your pockets. 
If you're feeling crafty, you can also use fake flowers to create a cute wreath you can use as a border for a portrait shot. If you want to go all out, you can create a flower backdrop à la Beyonce using fake flowers, cardboard, and hot glue.
2. Mirror Mirror
Mirrors are super popular on Instagram, as well as TikTok. If you want to get creative with your photography, mirrors are a great way to start. Most people have a mirror at home, and if you don't have one that isn't attached to a wall, you can always buy one for cheap at most home goods stores.
Play around with the reflection to make any boring scene creative and fun! You can also give the "outdoor mirror challenge" a try. This challenge has been trending all over TikTok. All you need is a mirror and your yard, then snap a mirror selfie outdoors, and you have the beautiful blue sky as your backdrop.
3. Have a Photoshoot in Your Apartment Building
Test your creativity and have a photoshoot in your apartment building. Whether it's in the parking lot, by the pool, in the halls, or the stairways, the possibilities are endless.
If your apartment building doesn't have the best lighting, that's okay! You can create moody 90's inspired shots using your stairways and hallways.
To make the most of your photos, make sure you are posting them at the appropriate sizes.
4. Bed Sheets
Like mirrors, bed sheets are another item you probably already have at home. They can be used as a backdrop for a clean and simple background. Beed sheets are also great for adding depth and movement to your photo. 
Plain white sheets also help to maximize and bring out the natural light in your photo, allowing it to look more sharp and crisp.
One of the most trending Instagram photoshoot ideas for a soft, creative selfie with a touch of romanticism is taking photos under a white bed sheet.
5. Food and Recipes
One of the easiest at-home Instagram photoshoot ideas is taking photos of what you eat and drink. Take it a step higher by documenting what you cook. You don't have to be an expert chef, and people will love looking at your attempt!
You can take a few photos of the cooking process with the final result at the end and post it as a carousel on Instagram, or you can record it and post it on TikTok.
Cooking utensils make fun props, so try taking fun photos with those as well!
6. Fun TikTok Challenges
If you want to make your followers smile, try a fun TikTok challenge! #ThePillowChallenge has been sweeping TikTok, and all it involves is dressing up in, yes, you guessed it, a pillow.
Fashion influencers are having a lot of fun with this challenge by creating high-fashion Instagram photos using their pillow.
Another challenge seen on both TikTok and Instagram is creating your own magazine cover. Take a photo in front of a plain background and then edit in your own magazine headlines using an app or photoshop.
7. Bath Tub Fun
If you have a bathtub at home, you can use it as the location for your next Instagram photoshoot. You can go the traditional route and fill it with bubbles for an easy, relaxing shot.
If you want to get creative, you can fill your tub with a milk bath (water and just enough milk to make the water turn white) and flower petals or even balloons!
8. Shoot Through a Window
Photos shot through windows have a beautifully soft, vintage effect created by the glass. If you have a window where you can take a picture from on the outside, then put this on your list of Instagram photoshoot ideas to try.
We suggest using a polarizing filter to reduce or remove the light reflecting off the window's glass. If you want to give your photo a moody look, you could even spray some water on the window to give the illusion of rainy weather.
9. Show off Your Home
Show off any space in your home that you love. Bookshelves make for lovely photos and so would your work from home space. Try filming a desk tour or a tour of your pantry.
You could also record a tour similar to those viral TikTok videos of random things in people's houses that "just make sense." You know which ones we're talking about.
10. A New (or Old!) Hobby
Many of us have spent this time picking up new hobbies or spending more time doing old ones. Are you learning something new? Like painting or playing an instrument? Share your hobby with your followers!
This is also a great way they can learn more about you and what you like to do for fun or to relax.
11. OOTDs and Outfit Ideas
Whether you post OOTDs or Outfit Ideas, this will always be one of the most popular and loved ideas for Instagram photos. You can take a picture of your outfit of the day in front of the mirror, or you can ask someone to take a photo of you. If you have no mirror or someone to help, try using the timer on your phone.
Why not make use of all the clothes you have in your closet and create a fun outfit idea photo carousel for Instagram or video for TikTok.
It can be general cute outfit ideas, or you can choose a theme. Think date night outfit ideas or even 90s or Y2K inspired outfit ideas for a fun throwback.
Instagram Photoshoot Ideas 
Being stuck at home shouldn't limit your possibilities and inspiration. In fact, this is the time to get creative! If you were in need of some inspiration or Instagram photoshoot ideas for your next home photoshoot, we hope you found this post helpful!
If you liked this post or found it helpful, check out our blog for more!