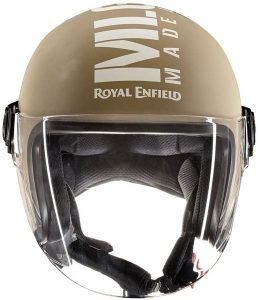 Another Helmet from Royal Enfield and this one is even better, the matt desert storm look is so good looking that it has become the choice of a lot of moto vloggers who ride Royal Enfield. It goes perfectly with your Royal Enfield and its open face look gives it a very good finishing, let's know more about the helmet.
PURCHASE LINK – BUY NOW AT AMAZON
Key features of Royal Enfield Matt Desert Storm Open Face with Visor Helmet:
Like most of the helmets .by Royal Enfield, this one also weighs around 950gm and is approved by the ISI, which means the buyers can be worry-free when it comes to the weight on their head and safety. Talking about its build quality, its shell is made up of the same fiberglass technology that they use for making of most of their helmets, which gives the benefit that when the helmet hits any solid surface, the impact is distributed all across the surface, minimizing the damage caused to the wearer. Its visor is made up of polycarbonate material and comes with a scratch-proof and UV rays protected surety. It is an open face type helmet and covers 58cm in length. 
Conclusion:
If someone is looking to buy a helmet for their Royal Enfield( especially desert storm) then Royal Enfield Matt Desert Storm open face helmet with visor is the best choice for them, hands down it is one of the best helmets ever made in the history of open-faced helmets.