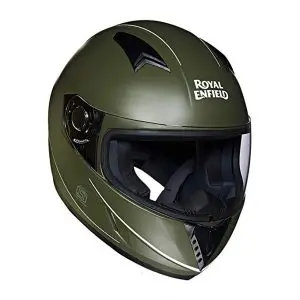 PURCHASE LINK – BUY NOW AT AMAZON
What could be a better helmet for Royal Enfield than the helmet provided by Royal Enfield itself, Royal Enfield's has been in the business of motorbikes and accessories for more than 118 years, which makes it not only one of the best, but also one of the oldest in the business. Let us know more about the helmet.
Also Read:-
Key features of Royal Enfield Battle Green Full Face Helmet:
Royal Enfield Battle Green Full Face Helmet is an ISI approved helmet and weighs around 950gm, it is made up of protective fiberglass, which makes it look even better and the best thing about this helmet is its classy looks which match perfectly with your Royal Enfield like it was designed by the god itself. Talking about its visor, it is aviator style( yes they kept it old school) and made up of polycarbonate material and gives a very protective shield to the eyes and the face. Not only this, but its visor is also scratch-proof and UV-ray protected so sun or dust is never going to be a problem. Its strap is made up of nylon material which makes it comfortable over that chin region. Overall this is the best helmet for Royal Enfield under 3500.
Conclusion:
If you are looking for a classy looking, long-lasting and comfortable helmet, which matches the style of your Royal Enfield, then Royal Enfield Battle Green Full Face Helmet is the best choice for you.