Since TikTok has become a source of pure entertainment and joy for many users worldwide, everyone wants to explore every feature.
Many TikTok users choose to edit it in slow motion or fast motion to look more attractive and fascinating. TikTok content creators want to create content that impresses visitors.
TikTok is a very trendy App, and it seems almost everyone has an account on it. It still takes something special to make a mark in the TikTok. Innovative and creative persons will succeed in this fascinating world of TikTok.
Let's discuss it in detail.
Part 1. Why Slow Down a Video and Why Fasten a Video?
There are some reasons why people opt to slow down or fasten a video on TikTok.
Let's discuss it one by one.
Why Slow Down a Video
Adds much more emphasis and curiosity for your viewers
Makes your story attractive and more substantial
Gives your video a cinematic touch
Why Fasten a Video
Attracts audience attention in the first place.
Delivers your content or full story very quickly.
Makes your funny content funnier because it passes very soon to viewers.
Part 2. How to Make a Fast or Slow-Motion Video Using TikTok
Slow-Motion Video
Slow-motion is one of the excellent tools in TikTok. Let's dig into steps that will tell you how to make it.
Step 1: Click the "+" button option after opening the application.
Step 2: You need to select a slow song that you want for the user in your video. It will be better for you if you pick a slow song.
Step 3: Go on the right side and press on the speed option.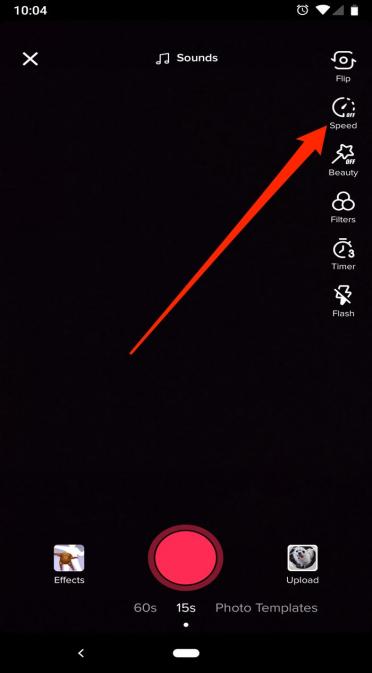 Steps 4: Several options will pop up for you to choose from at the bottom. You can select a speed from there.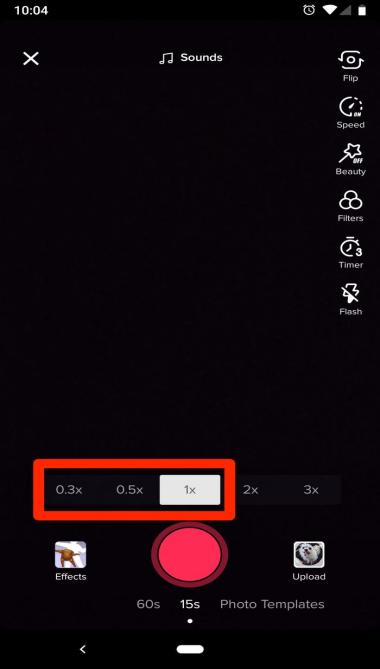 Step 5: After doing all that, pick filters, and that's all you need to do for it to go.
Fast Motion Video on TikTok
TikTok users want to convey their message in quick manners; that's where the option of fastening the video comes into play.
Let's find how to do it.
Step 1: Open the TikTok and press on the "+" icon right there at the bottom.
Step 2: Please go into the gallery by tapping its icon for choosing a video.
Step 3: Select a video that you want to fasten.
Step 4: It will help if you press the Next button
Step 5: Look for tapping the speed icon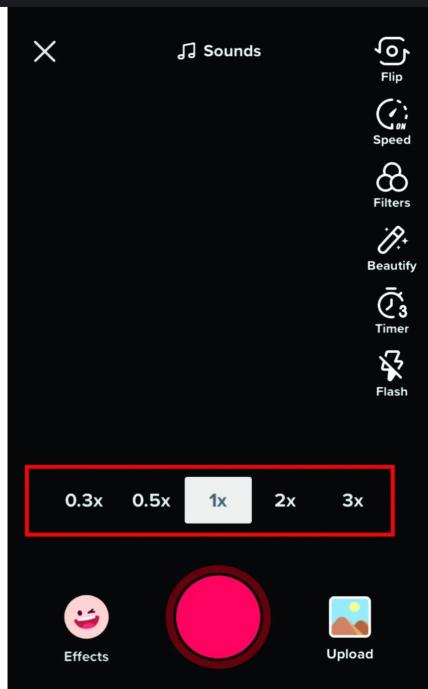 Step 6: By clicking on the 2x or more, you will see your video speeding up.
Step 7: After doing all this stuff, you can upload your video at TikTok.
Part 3. Tips to Help You Make Better Fast and Slow-Mo TikToks
TikTok has its video editor that will edit your video. You can make quick and slow-motion videos with ease on TikTok.
It's not difficult to make fast and slow-mo videos for TikTok, but there are some key points you need to take care of. Before shooting any video, you need to make sure that you are ticking all the boxes.
Here are some helpful tips that can turn out to be beneficial for you in this regard.
Adjust Speed According to Light
When you opt to shoot in fluorescent light shadows, you will find an excellent shutter speed. The shutter speed is usually set at 2X. Since fluorescent lights' nature is flickering, you should put it at 3x or 4x for better results. It all depends upon your intensity and glare.
Pick Appropriate Moments
The competition in TikTok is immense. You have got to be on your toes while thinking about your videos. If you randomly make fast and slow-mo videos, it will probably not help you all the time.
Pick the moments where you need these types of features. But once you make up the mind to do it, then be clear on your thinking and try to make it perfect.
Ensure Rhythmic Sound
While changing the TikTok video's speed, make sure that you also change the video's background sound. If you don't do it, then there will be something missing from your video. It will lack rhythm and, more importantly, the flavor that people loved to watch.
Don't Rush up Things.
It's not just making videos in fast or slow MO that will help you in your cause. We all make mistakes, and they tend to correct them.
Similarly, it would help if you looked for the best possible results while changing the videos' dimensions and sounds. If you see that your video is not up to the mark, don't upload it, try again, and then see what happens.
Don't Look for Shortcuts.
Your main aim should be to inspire people by making quality content on TikTok. Sometimes, when people choose to make slow MO or fast video, they don't often pay attention to the process entirely.
They want to make a 5-second video and then expect the leaps and bounds. It is not a good thing. Don't let your quality down while changing the speed.
Part 4. Advanced Tutorial- How to Make Fast or Slow Motion Video on Desktop like a pro
Many people want to become a pro in editing videos. It's not a piece of cake but a daunting task. However, we will tell you how you can become a pro in this field.
iMyFone Filme
iMyFone Filme is a fascinating and modern editing software of iMyFone. It has all the aspects that video editing lovers want in it. Firstly, it tells you the basics of editing; once you learn the basics, it will tell you about high-level editing tasks. Whether you want to edit the videos for your families or friends or like to share them on social media, Filme will make sure you do it effortlessly.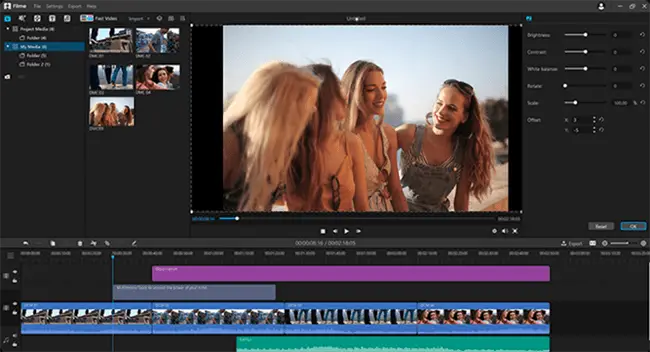 Features
Filme is pretty good at cutting, trimming, splitting, and rotating videos.
20+ Fast video mode. Definitely the cup of tea of a newbie to make traveling Vlogs, wedding and birthday celebration videos.
From 0.1x to 16x, You can create slow motion and fast forward videos with only a few clicks. If you want to change your video's speed, it can be the best software to do that. It changes the speed so accurately and effectively that looks very elegant.
It is a desktop application for Mac, Pc, and another platform with outstanding slow motion or fast forward features.
110+ transitions, 170+ filters to stun your social media followers.
You can edit the background sound and color of the video using Filme, which is indeed a magnificent aspect of this software.
Part 5. How to Speed up or slow down videos using iMyFone Filme?
Let's get straight into that.
Step 1: After opening Filme, go to the File menu and try to hover over the new project. Then you need to choose the screen size.
Step 2: Look for the import option and click it on the right side of the Filmee Window and then import the file.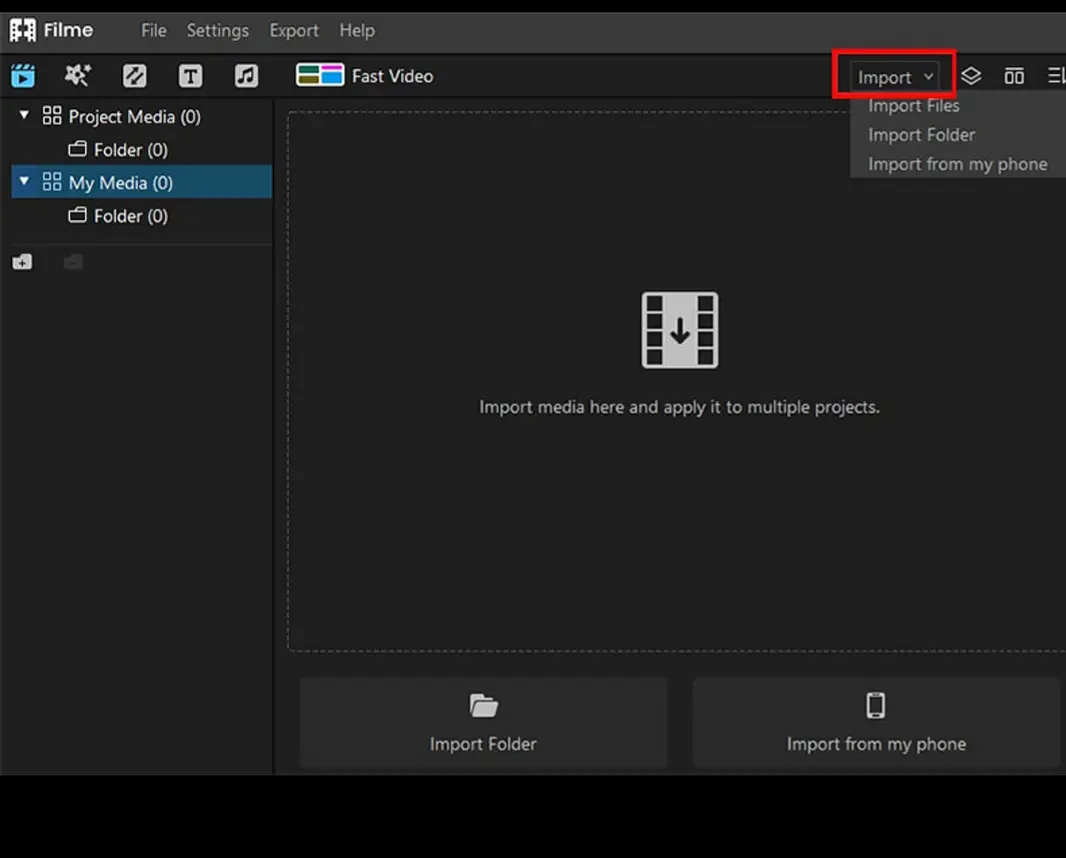 Step 3: Try dragging the video that you choose to the timeline.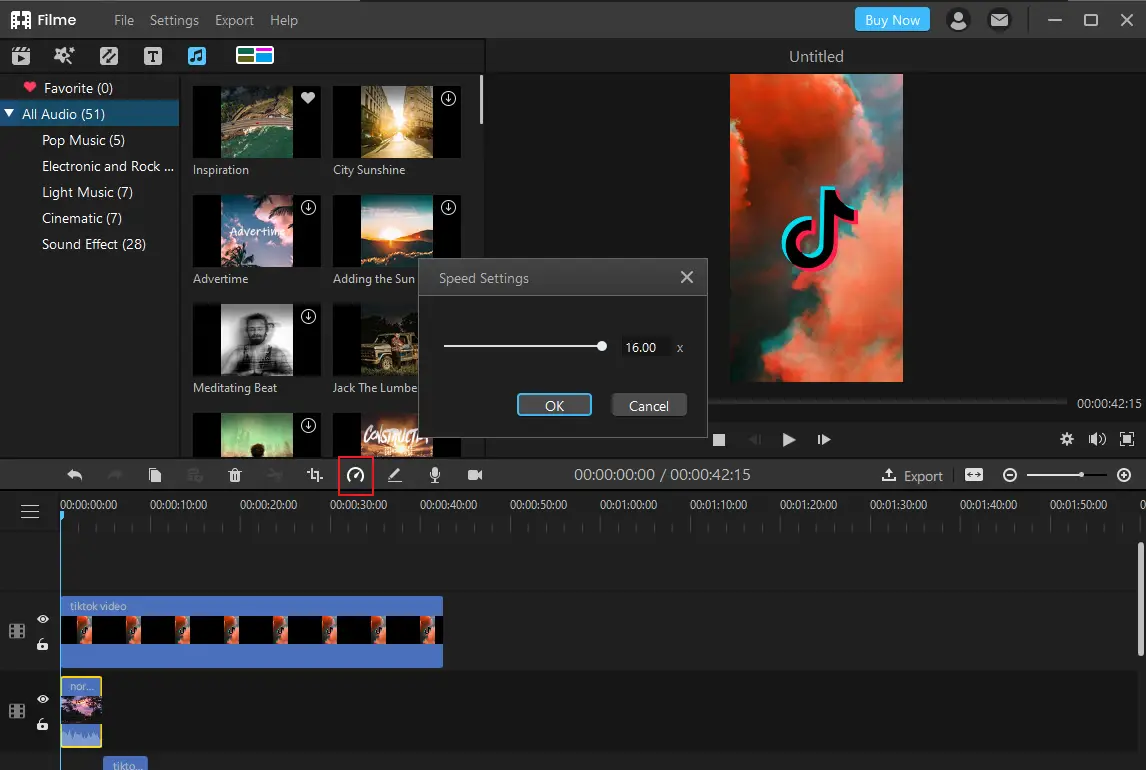 Step 4: You will find the speed-meter bar on your timeline toolbar. Select the speed either you want to increase it or slow it down, from 0.1x to 16x, all up to you.
Step 5: If you have selected the video's speed, export the file from the Export menu.