TikTok as the most active the powerful UGC platform, attracting more and more creators and brands coming to this young platform now. With huge user database, the professional creators or the one who dedicated to grow on TikTok, they must use the analytics tools to know well about the content, especially the trends.
It's a digital world, be good at data and analysis can help you grow faster, and
discern the most useful stats for more effective content.
Nowadays, there is more and more analytics tool, how we can select a right one? We will provide a list of TikTok analytics tools in this blog together with pros and cons, so that you can select a fit one.
We will not introduce more about TikTok analytics in TikTok Pro Account, since it's only focusing on owner's profile. We have 4 TikTok analytics tools for you in this blog, not only to check out your own data, but also for your competitors.
HypeAuditor
Serious influencers who focusing on Instagram love the HypeAuditor most.
There were several reasons, HypeAuditor includes most popular social media channels, Instagram, YouTube, TikTok and Twitch, but its best part still on Instagram. It contains a huge information to help user distinguish real influencers. HypeAuditor also offers clear purpose driven report to user for better knowledge about competitors and guide for next content creation. Let's take a look about how its dashboard looks like.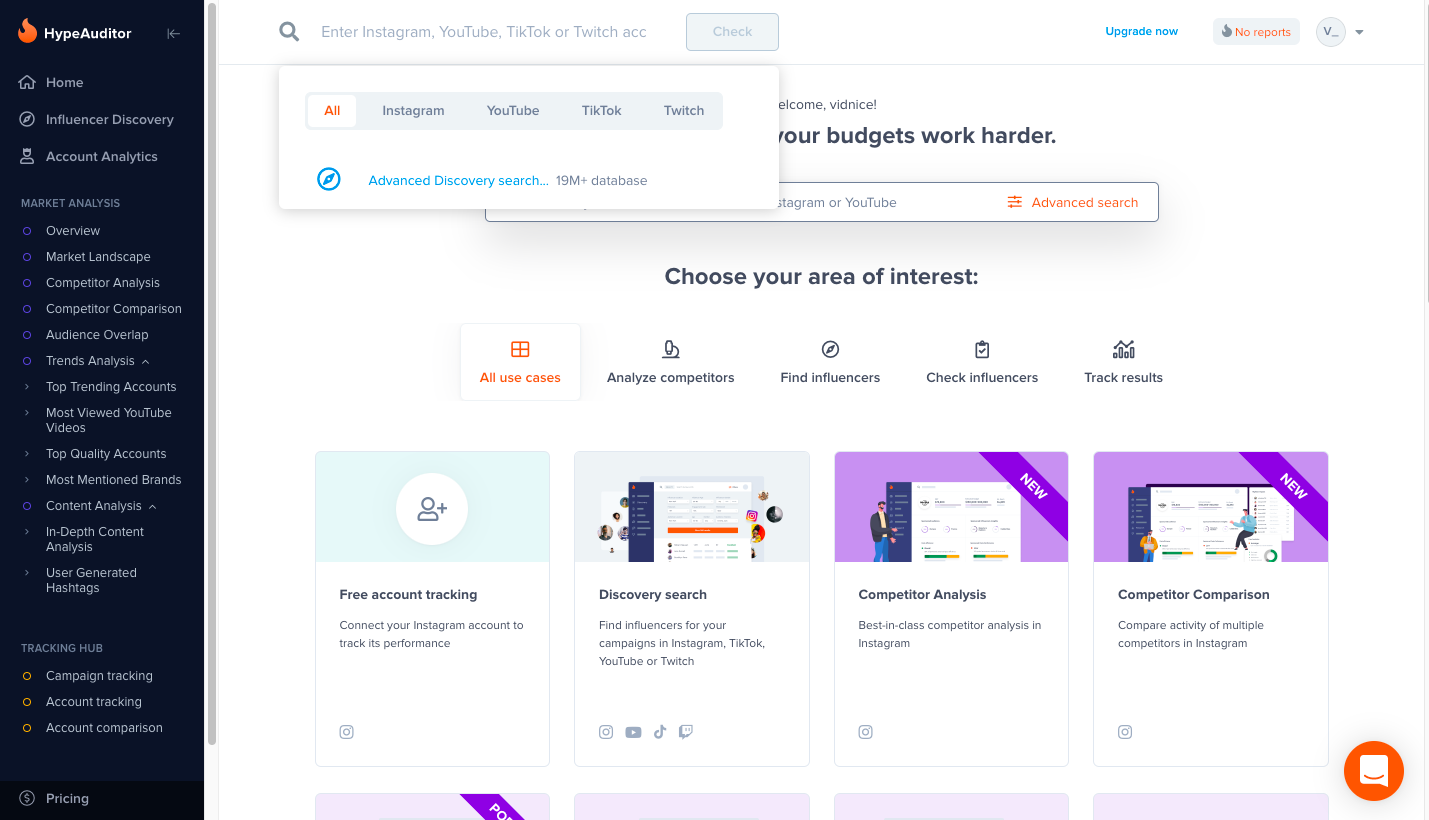 Price
$299/month, no free trail, enable to pay as you go.
Basic Feature
Influencer discovery
Reports for campaigns
Influencer tracking
Analytics of industry trends and competitors
Best Feature
AI powered tools
Provide influencer performance and campaign performance
Monitor the effectiveness of campaign on Instagram &YouTube
Complete solution with knowledge base both for influencer and company
Conclusion
Complete analytics toolkit for the influencers who focusing on Instagram and the company want to drive traffic from Instagram. As well a good support for YouTube analytics. HypeAuditor not only provides data and stats, but also the important metrics that could help you understand well about what you search. Since the full metrics with comprehensive knowledge base, HypeAuditor fit to individual influencer and all-size business.
Analisa
As the HypeAuditor, Analisa is another analytics toolkit focusing on Instagram, but they have many differences.
Analisa only offer analytics for Instagram and TikTok
Analisa just a toolkit but not SaaS service as Hype Auditor
Analisa does not support tracking and compare the influencers
Analisa does not support tracking video and video analytics
Analisa does not support searching TikTok creators
However, Analisa still a professional toolkit with neat and clear page with simple navigation. Let's help you to learn more about Analisa.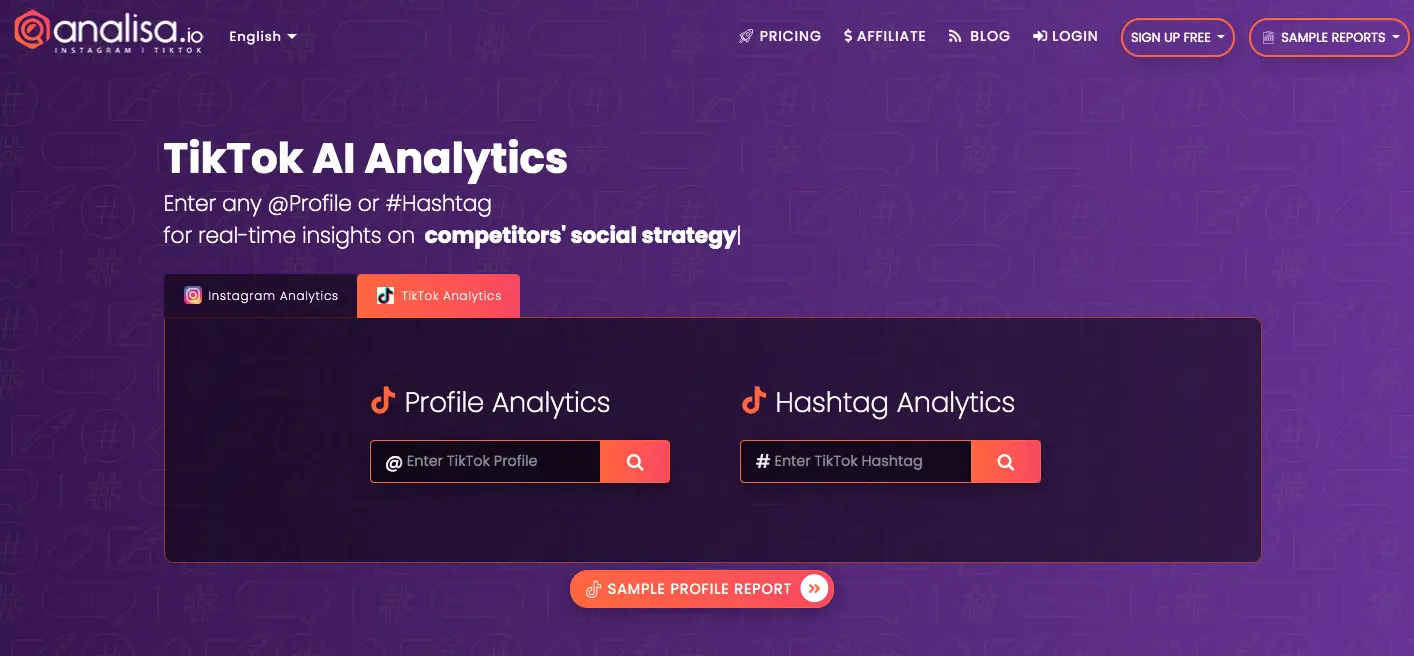 Price
$69/month, free trail is only available for part of TikTok profile. You will pay $149/month if access to a comprehensive TikTok analytics function.
Basic Feature
Profile analytics
Hashtag analytics
Best Feature
Charts overview for all stats
Tagged TikTokers and brands
Caption words most used
TikTok follower basic demographics
Conclusion
Analisa basically offers complete analysis stats for Instagram, and includes campaign analytics with management, but only offers part of analytics for TikTok actually. Just as you can in the home page and price plan feature list, Analisa only offers analytics for TikTok profile and hashtags, and it's not free. Even users cannot search and discover TikTok creators by Analisa, it always leads to inconvenience for daily use as a basic third-party toolkit. All-in-all, consider its price base and key features, Analisa more fit for influencer and business who want to discover more insights on Instagram.
PENTOS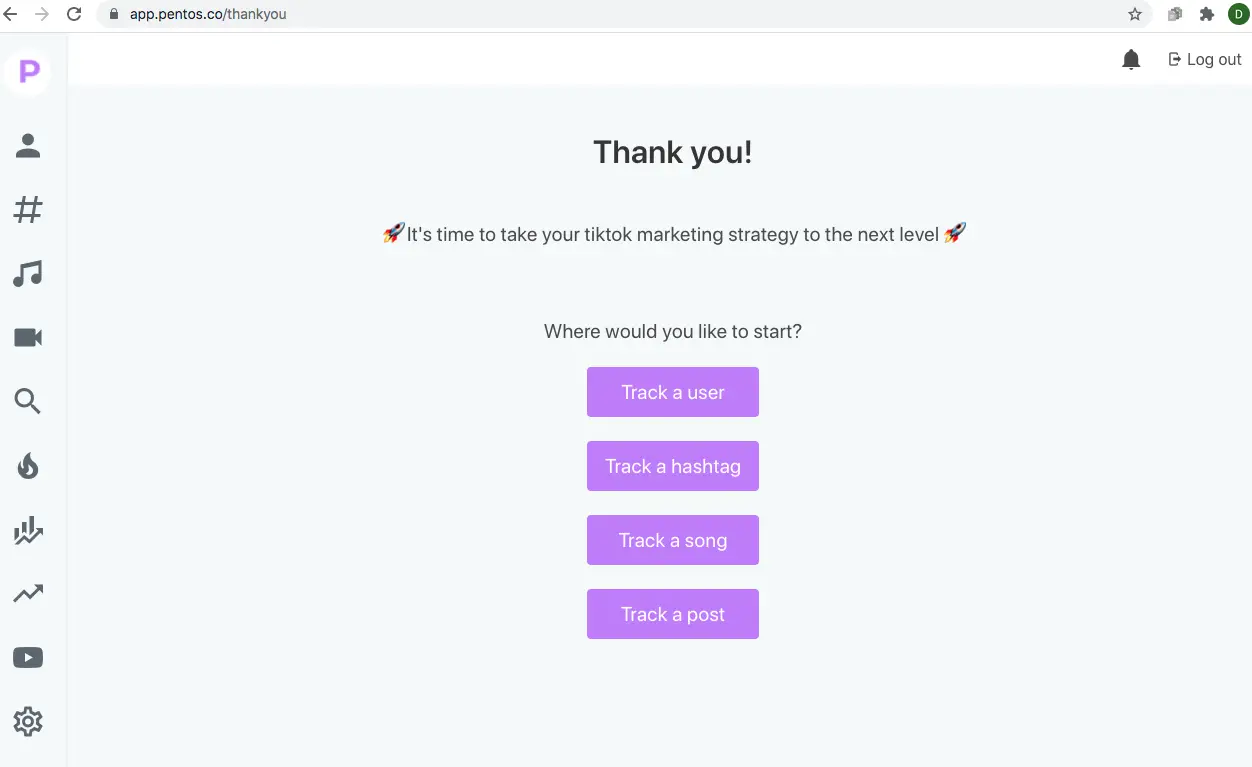 Pentos is not the most advanced analytics toolkit for TikTok, although it's easily be found in Google when searching by keyword "TikTok analytics", it's most likely the time launched earlier than other toolkits. After a complete try of Pentos, we found it is only offer tracking result for metrics, which includes likes, views, comments and shares. Now have a quick glance at Pentos.
Pentos Dashboard
Price
14days free trial
29€/month up to 5 trackers
109€/month up to 20 trackers
249€/month up to 50 trackers
Basic Feature
Track video and offer tracking result
Export the tracking result
Conclusion
Literally speaking, Pentos is a TikTok tracker, but not an analytics toolkit since it neither offers complete stats nor provides ranking or any other analytics.
If you only want to track TikTok videos, creators and hashtags as more as you want, and only need the tracking result stats, the Pentos fit you. Otherwise, it's not a comprehensive analytics toolkit that could offer a full report. By the way, it not updating anymore for any other new features.
TikBuddy
A new arising analytics toolkit platform for TikTok, since public on Nov 2020, its feature getting updated and upgrading each month. TikBuddy lets you check out all the information you need for a knockout content strategy, which includes trending metrics for video, hashtags, music and creators. It also provides a digest graph for easy understanding. Here is an overview for its dashboard.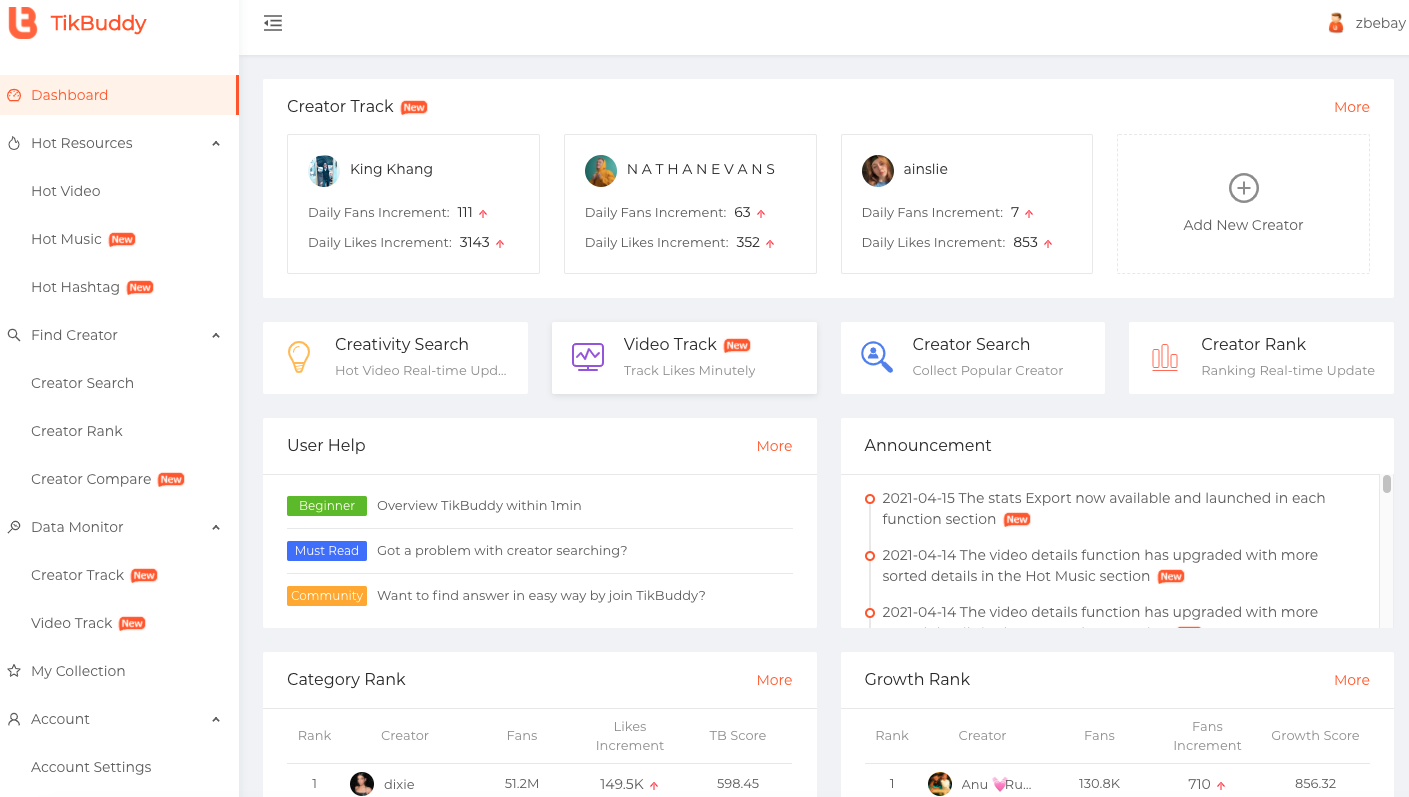 TikBuddy Dashboard
Price
Totally free by now, guess because of it's still in the startup phase.
Basic Feature
Hot resources discovery
Creator rank and compare
Data monitor
Best Feature
Filtered by category/niche
Data listed by total counts and increased counts
Compare and track creator
Charts overview for analysis stats
Real-time data
Available to export stats FREE
Continuous updating for new functions
Conclusion
As a growing TikTok analytics platform, TikBuddy updating its function always.
TikBuddy includes a lot of details, which not just show you basic stats of video and creator profile, and more in-depth stats to make sure user understand well
about each post in realtime.
Basically speaking, if you want to get the complete stats report for video, creators, hashtags and music, TikBuddy will fit you. And if you have target videos and creators, would like to track and learn from competitors, TikBuddy also works for you. It's free now even support to export report to excel.
At Last
There are many other third-party analytics tools, above 4 tools we gave are the most proper tools in the market, which fit for agencies and TikTokers, you can select one according to you actual need.
Analytics is the professional way for TikToker who want to get actual growth on TikTok, so it's necessary to have a deep knowledge of your TikTok analytics.
By discover, track and analyze to create content what your audience will like, or the potential consumers will be interested.