If you have come here in search of the best ERP Software for you, then you have come to the right place. Today I am going to tell you about 10 Best ERP Softwares in India in this article, which can prove to be very helpful for you.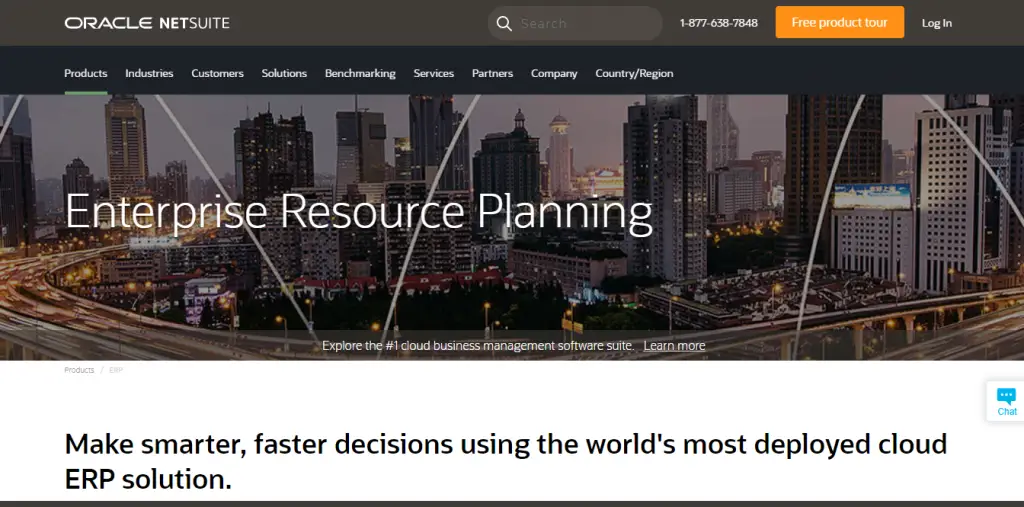 Oracle NetSuite ERP is the world's number 1 cloud ERP which is providing a single unified platform in the cloud to streamline all back-office processes, like accounting, CRM, and e-commerce.
NetSuite provides features like business intelligence, reporting, and renders real-time visibility across the organization. Oracle NetSuite ERP gives the powers to the industries to reduce IT costs, unleash growth, and eliminate operational incompetence by allowing us to focus on revenue-generating decisions, rather than the back-end systems.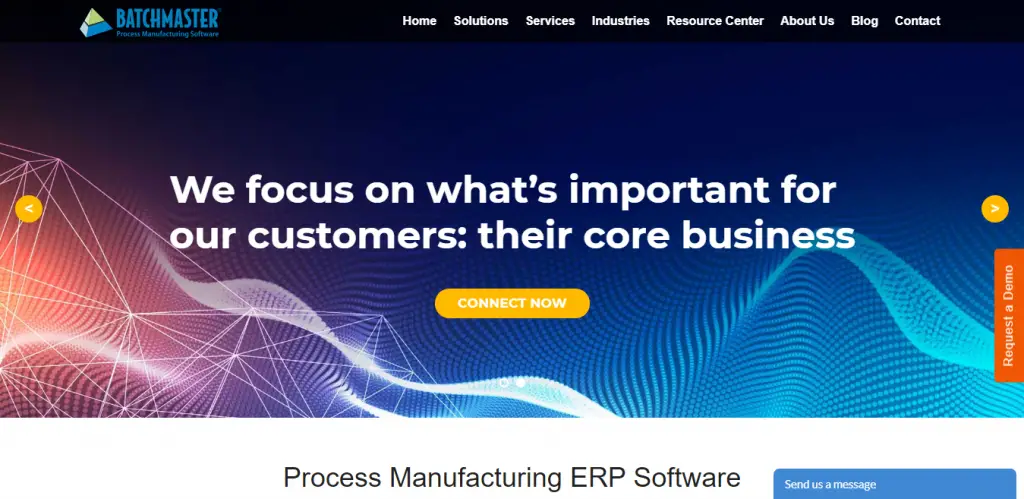 BatchMaster ERP is complete ERP software built for manufacturers to help them streamline manufacturing, distribution, sales & purchase, finance & accounting, R&D, CRM, analytics, cost analysis, MPS/MRP, quality, compliance, and finance while also integrating with your existing financials/accounting software.
It provides various features including product management, accounting management, inventory management, formula management, nutrition analysis, etc. BatchMaster ERP is a Microsoft-Gold-Certified Partner and reseller of SAP Business One and offers a world-class ERP solution available on-premise.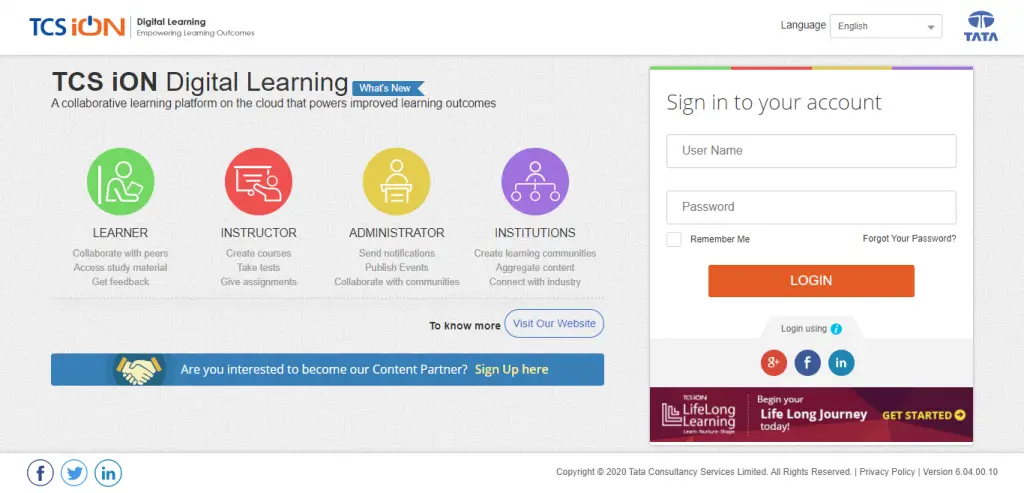 TCS iON is an automation solution software for manufacturing SMBs and educational institutions. The unique IT- model allows us to automate the processes making use of the global expertise of TCS in providing scalable digitization solutions.
This software provides a wide range of features like document management, manufacturing, sales and distribution, purchase management, work order management. It also provides a dashboard, employee database, project, management and Business process modeling (BPM). 
4. MMI Xpert – ERP Software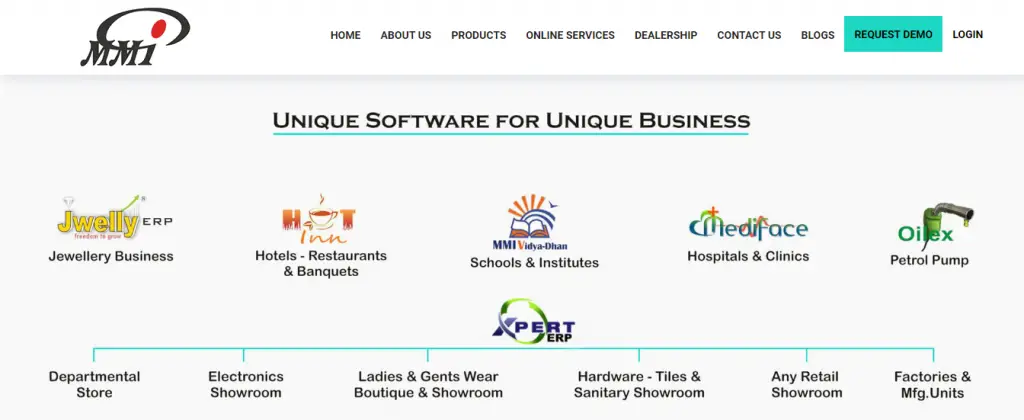 MMI XPERT is a perfect complete solution for small and midsize retailers, wholesalers, and manufacturers operating everything from a single store to a whole chain.
MMI XPERT  is comprehensive and scalable for those businesses focusing on significant growth. The manufacturing solutions of MMI XPERT solutions provide the bandwidth for innovations on business models, leveraging contemporary technology solutions. It helps global manufacturers to reduce operational expenditure, invest in process improvement, utilize existing capacity optimally, and increase efficiencies with maintaining product quality.
5. Astral Manufacturing ERP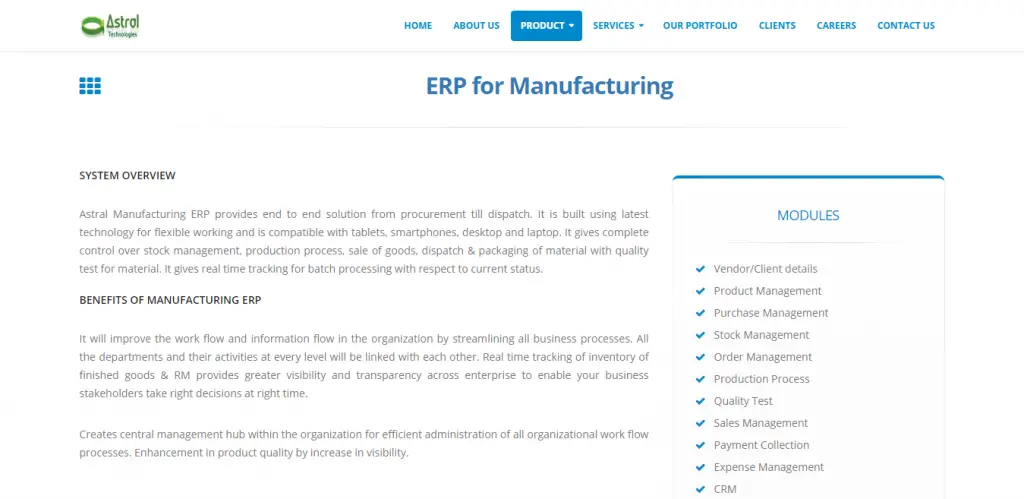 Astral Manufacturing ERP gives us the ability to maintain the inventory with raw material required to be purchased, direct entry of the order from a customer, barcode used to be generated for the product to be dispatch. 
Tracking of Payment collection became easier as goods were created and dispatch. This software gives us a wide range of features including Budgeting, CRM, Financial Management, HR & Payroll, Inventory Management, Manufacturing, Project Management, Supplier and Purchase Order Management, Quotation & Estimates, Sales Quotes, etc.

Expand ERP is the best Cloud ERP software that is made for mid-sized manufacturers in the Export and Retail Industry respectively.
It regulates business efficiency by perfectly fitting into the existing business process and effectively automating the most complex processes. Expand ERP provides the services which provides Lead Management, Order Processing, Export Documentation, Production, Warehouse Management, B2B B2C, POS billing, Magneto, Amazon, Blue Dart integration, etc. It is the USP of Expand is customization and multi-discipline integration.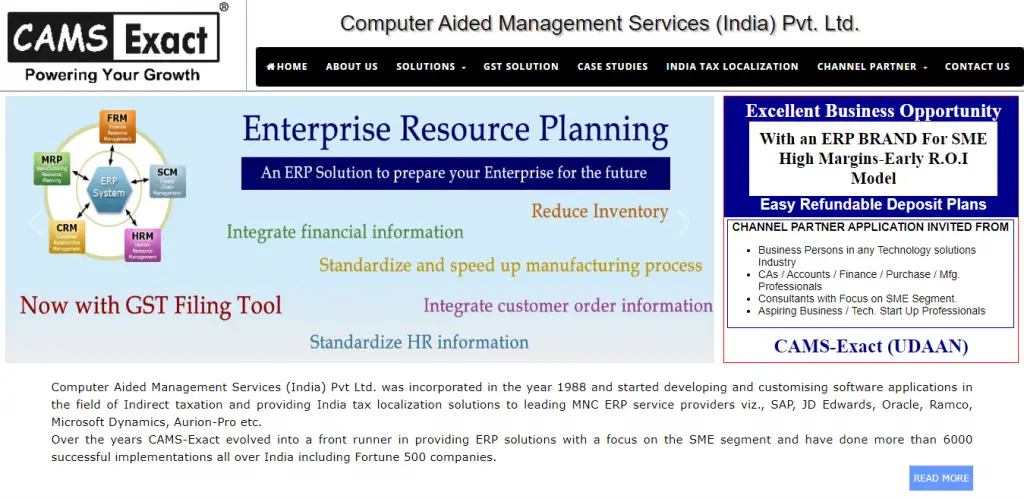 CAMS-Exact recognized as the leader in providing collaborative, easy-to-use, customizable, scalable, ERP solutions for all Industries.
This software is offering a modular working with higher levels of productivity managing, their Operations & Accounting, achieving Growth & Profit. It gives the perfect services by delivering on time, state of the art IT solutions to a broad range of clientele. CAMS-Exact ERP infrastructure allows everyone to implement projects on multiple platforms.
8. Uneecops- SAP Business One Gold Partner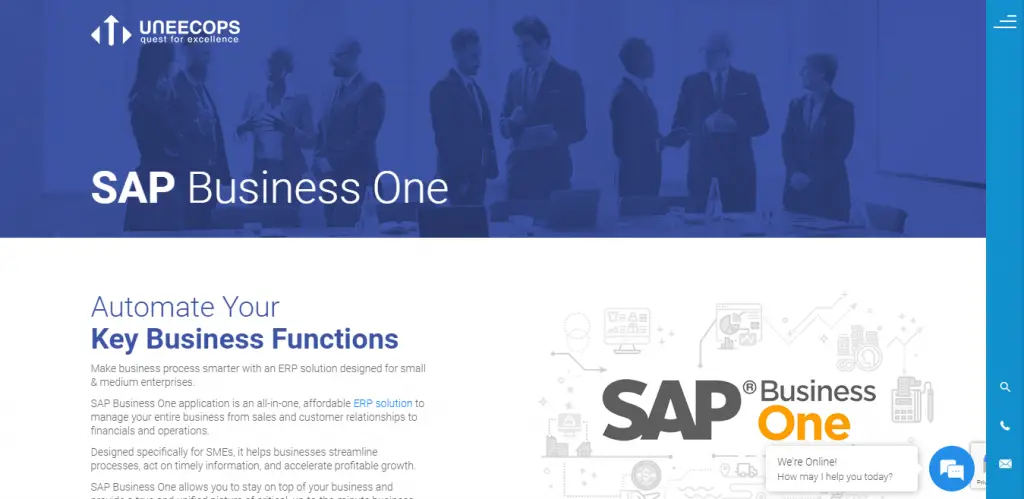 SAP Business is a cost-effective, integrated ERP solution for SMEs. It is made specifically to meet the demands of small and medium businesses, helps us to manage the business as per set international standards.
This covers all key functions like productions, inventory, finance, sales, HR, and more. The software provides a wide range of features which include quality management, sales, and distribution, financial management, bill of materials, quotation and estimates, etc.
9. Ray Tech Manufacturing ERP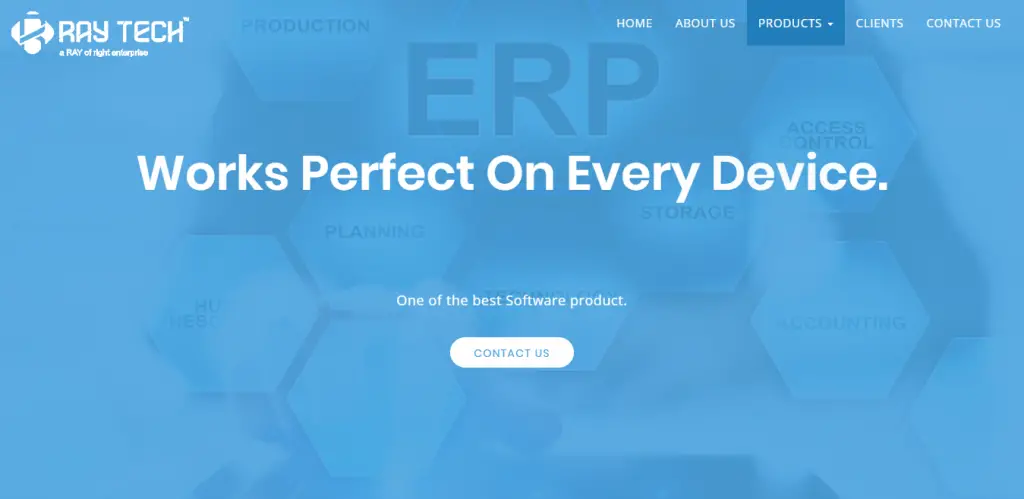 Ray Tech ERP system is offering the tools include highly advanced business functional tools with many other modules can be attached or extended.
Ray Tech ERP system is manufacturing ERP provides different components that can be installed according to the requirement which provides easy expandability of the whole system. It provides features like accounting, HR and payroll, manufacturing, inventory management, expense tracking Multi-User login & Roll based access, etc.
10. StrategicERP-Real Estate ERP Software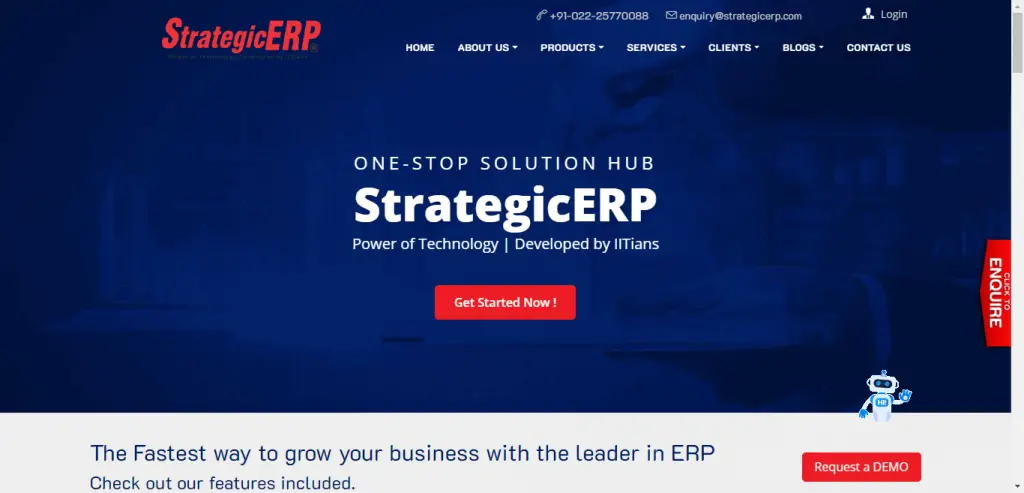 StrategicERP- Real Estate ERP Software provides business solutions specifically designed to fulfill the needs of Real Estate and Infrastructure Industries with the modularized and innovative technology created by IITians.
StrategicERP-Real Estate ERP Software is a solution that gives us the various business transactions that provide advanced optimum resource utilization and business process management to keep in pace with the times. It is a fully web-based application built by IITians on the proprietary J2FX framework.
Conclusion:
So friends, in this article I have told you about 10 Best ERP Softwares in India. I hope that you have finished your search here and you will have found your favorite Best ERP Software.