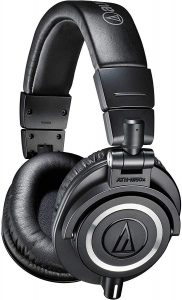 ATH-M50x has been appreciated by top gamers and engineers for their performance, durability and classy looks, moreover, they are said to be the best headset for PUBG under 150$. The company claims that none another headset can provide an audio experience as good as ATH-M50x.
PURCHASE LINK – BUY NOW AT AMAZON
Key features of Audio-Technica ATH-M50x Professional Studio Monitor Headphones:
These headphones have their same old ravishing quality with the newly added feature of detachable cables and sound-isolating ear cushions which makes the headset, a more professional choice for the "all-time gamers" who do not want any compromise in the quality.
The headphones are wired and do not come with a microphone, the 45 mm large aperture makes them best suited for PUBG, one can clearly listen to the footsteps of an approaching enemy or vehicle. They are also best suited for studio professionals as they have the perfect combination of sound quality and build quality which makes it a perfect choice for professionals.
Conclusion:
If one is looking to buy wired headphones to play PUBG or to use them in studio, then hands down Audio-Technica ATH-M50x is a very good choice, it may have a bit high priced but it is totally reasonable for such sound and build quality, it is totally recommended from our side.